Reliability


Recognized world-wide

Anti-corrosion, pipe renewal device NMR Pipetector obtained multiple overseas patents after being granted a Japanese one.
We presented our original device NMR Pipetector, papers of which were approved at several academic conferences of corrosion control as the world's only effective anti-corrosion technology to prevent internal corrosion and extend lifespan of piping.
Obtained patents
Here are the patents that NMR Pipetector obtained.
Certificate of Japanese patent

Patent No. 3952477, May 2007

Certificate of US patent

Patent No. 7622038, Nov. 2009
Certificate of Hong Kong patent

Patent No. 1087963, Sep. 2008

Certificate of S. Korean patent

Patent No. 436113, Jun. 2004
---
NETIS
New Technology Information System for public construction works
As an anti-corrosion, water pipe renewal device, NMR Pipetector adopts NMR Method that our company originally developed. The NMR Method was registered on New Technology Information System on Dec. 13, 2010, followed by another registration on N.E.T.I.S. Plus on Apr. 1, 2016. Both of the services are run by the Japanese Ministry of Land, Infrastructure, Transport and Tourism.
*N.E.T.I.S. Plus ended its service on Jun. 30, 2020.
Registered Information:
Name: NMR Method
Registration Number: KT-100072
Papers presented at academic conferences
The 13th Asian-Pacific Corrosion Control Conference
We presented a paper on the anti-corrosion technology utilizing NMR at the 13th APCCC held at Osaka University from November 16th to 20th, 2003.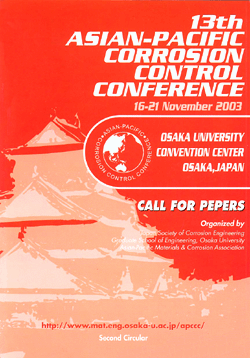 Japan Association of Corrosion Control (JACC)
We presented a paper on the NMR technology at a historical scientific conference of rust prevention and control organized by JACC. For purpose of developing anti-corrosion measures, the association was established and approved by the Ministry of Economy, Trade and Industry in 1957. The paper was also published in the association's monthly magazine, Rust Prevention & Control Japan Vol. 49 No. 10 in 2005.

In this paper, titled: "Pipe renewal technology that extends lifespan of piping," we described the detailed conditions and results of a test how red rust was converted to black rust in a pipe. By numerical figure, we proved the prevention effect of corrosion deterioration in piping, water discoloration, and red rust turning to black rust during the test where NMR Pipetector was fitted on a pipe whose inner diameter was smaller than 200 mm. We also proved by numerical figure the same effects of the NMR Pipetector at the section 150 meters away from the pipe fitted with the device.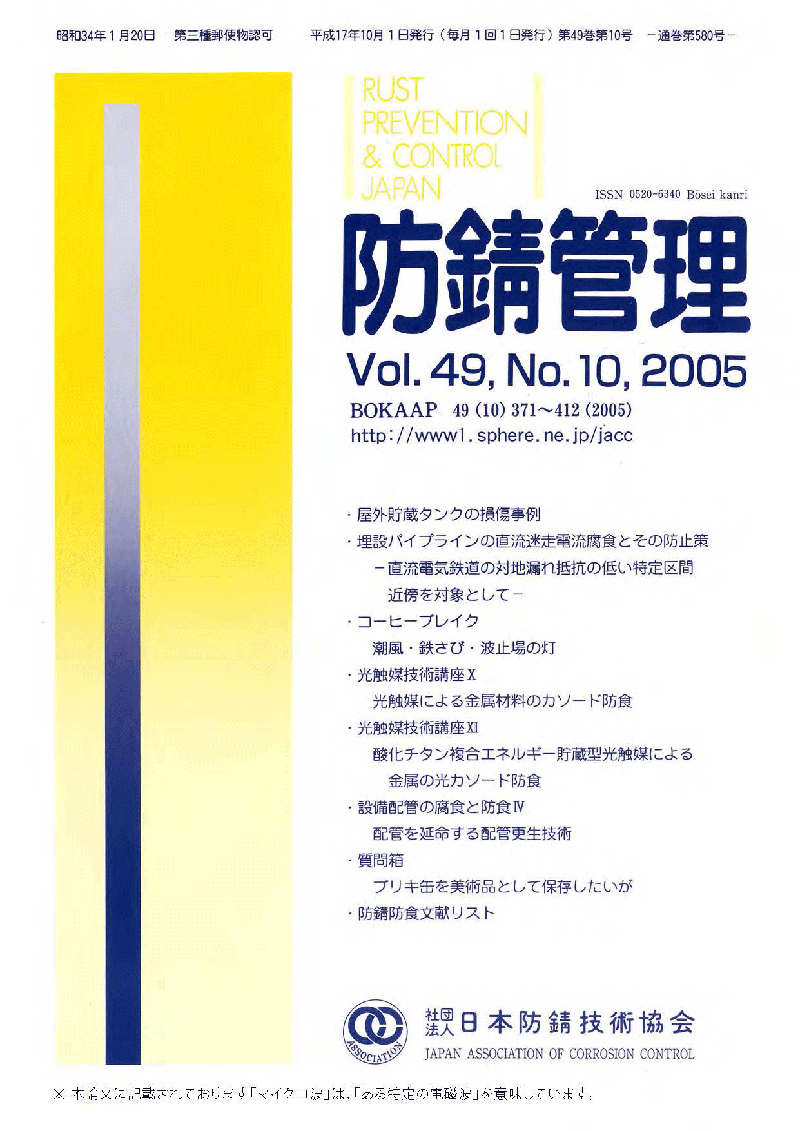 ---
Research Presentations
WCP2018 KYOTO
The 18th World Congress of Basic and Clinical Pharmacology
We presented a research result at WCP2018 held at Kyoto International Conference Center in Kyoto from July 1 to 6, 2018.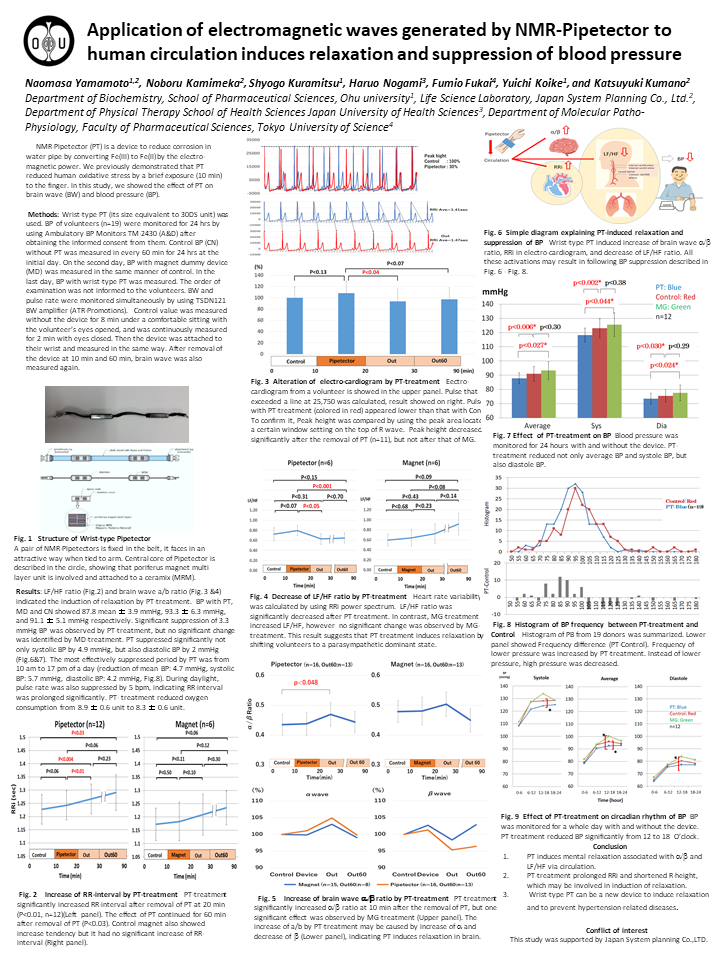 The 24th Microdialysis Research Group
We presented a research result at the 24th Micro Dialysis Research Presentation held at Ochanomizu University on December 14, 2013.
World Pharmaceutical Congress 2010
We presented research results on a technology of blood oxidation control at WCP2010 from July 17 to 23, 2010. The presentation was mainly made by JSP President Katsuyuki Kumano and Prof. Yamamoto from Ohu University's faculty of pharmacy, and other related professors.