Safe and secure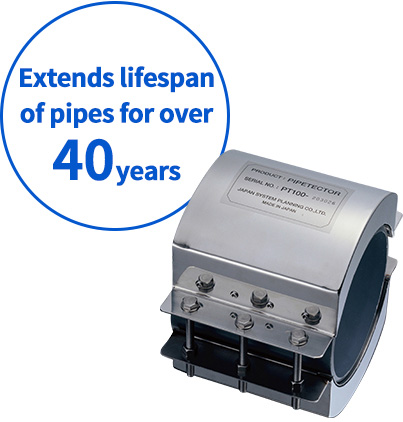 How to save pipes from corrosion damage?
Pipetector
Pipetector effectively prevents red rust in steel water pipes in any buildings, including apartments, hotels and hospitals. The device extends the life expectancy of metallic pipes as long as that of buildings without replacing them. It is the most cost-efficient way to address red rust-relating issues in a short period without shutting off the water supply.
Product material
Pipetector's outer part is made of stainless steel. The inner part contains black body substances formed in a process of sintering 12 kinds of rare metals.
Product size reference sheet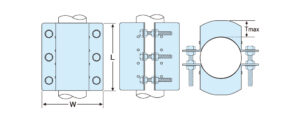 Model number
Width×Length×Thickness
Weight
Pipe inner diameter
PT-30DS
85.8 × 121.5 × 27㎜
0.8㎏
6~32㎜
PT-50DS
115.5 × 121.5 × 27㎜
1.2㎏
40~50㎜
PT-75DS
144.1 × 121.5 × 27㎜
1.7㎏
65~80㎜
PT-100DS
169.3 × 121.5 × 27㎜
2.0㎏
100㎜
PT-125DS
194.8 × 121.5 × 27㎜
2.4㎏
125㎜
PT-150DS
220.2 × 121.5 × 27㎜
2.8㎏
150㎜
PT-200DS
271.3 × 121.5 × 27㎜
3.5㎏
200㎜
PT-250DS
322.4 × 121.5 × 27㎜
4.8㎏
250㎜
PT-300DS
373.5 × 121.5 × 27㎜
5.6㎏
300㎜
PT-400DS~PT-2000DS
400~2000㎜
Place of installation
A suitable place for the installation varies by system and building structure. Shown below is a selection of typical installation examples.
---
Notable advantages
Reason1:Various case studies

Our history

Since our foundation in 1988, we have been handling Pipetector as our main product for over 25 years. Thanks to the long-term support from our customers, we can keep our business growing. We strive to satisfy our customers even more, and that is why we can propose our products with confidence.
Adopted at more than 4,300 buildings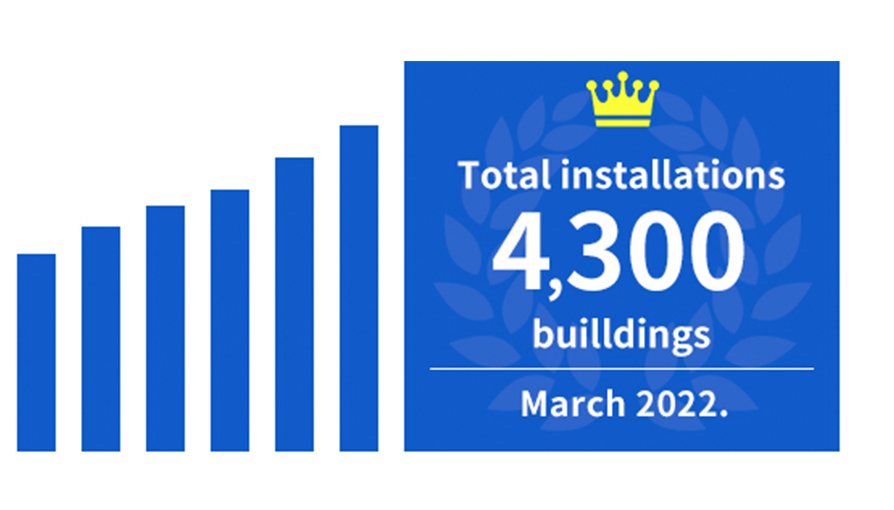 The number of successful installations we achieve is increasing every year. As of March 2022, the sum gratefully exceeded 4,300. Of the total, about 3,000 are apartments.
Pipetector can be installed at any buildings, such as hospitals, hotels, universities, museums, department stores and various factories. There are five major piping systems Pipetector is suitable: water mains, central heating and chilled, condenser, domestic tap, and hot water steel pipework.
Client testimonials

Pipetector is highly evaluated for its safeness and rust-preventing effect. It is introduced to many iconic buildings not only in Japan but also in overseas nations.
We received client testimonials from four buildings as shown above: the Royal Bank of Scotland, which highly evaluated Pipetector's rust-preventing effect a year after the installation, the Guildhall in Central London, Whittington Hospital managed by Whittington Health NHS Trust, and a five-star hotel the Royal Garden Hotel London.
Reason2:Cost-effectiveness

Absolutely cheaper than the replacement of steel pipes

Replacement of steel pipes costs between 6 and 10 thousand US$ per family in an apartment. On the other hand, Pipetector costs 1/5 to 1/10 than the replacement. In other words, the device can reduce costs by 80 to 90%.
Avoid unnecessary risks when shutting off the water supply

We ought to shut off the water supply to implement a replacement of steel piping, which costs a large amount of money. We need to suspend facility operation as the water supply has to be ceased during such works. This also leads to a large financial loss. It can be very profitable especially to hotels and hospitals by avoiding those works.

When it comes to Pipetector, there is no need to do so. With the device, residents at apartments and condos do not need to line up every day for a portable bathroom during the replacement.
Zero maintenance and operation costs!

Pipetector does not use any power supply, consumable parts or chemical drugs, so there is no operation cost whatsoever. Also, the product itself is maintenance-free throughout its minimum life expectancy of 40 years, which leads to a significant reduction of labor and cost.
Achieving greater building asset

With Pipetector, buildings can save their budget for the maintenance of steel pipes. For example, an apartment can use a budget leeway to increase its asset value. Some of our customers actually used their extra budget to paint their exterior walls, waterproof their roofs, and even install an elevator.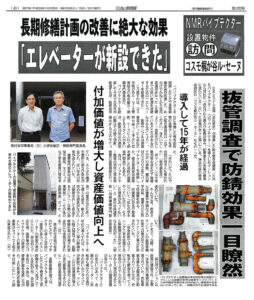 Actual acievements
Pipetector had a tremendous effect on improving a long-term refurbishment plan at an apartment in Japan.
The Mansion Kanri Shimbun (The condominium management newspaper) No.1053 on October 25, 2017
Reason3:Outstanding features

Total solution for red rust corrosion in steel pipes

Red rust adheres to the inner surface of steel pipes as the years pass by.
Red rust dissolves in water and has the chemical property of making iron corrode and crumble. This leads to several issues, such as water discoloration, clogging, water leak and pipe joint break.
Reduces red rust to black rust

With free electrons of water, hydrated electrons, Pipetector converts internal red rust to another substance called black rust.
Difference between steel pipe rinsing and Pipetector

As for steel pipe rinsing, a conventional and major method to address red rust, pipes are damaged and deteriorated when red rust is removed from within. Quite the opposite, Pipetector improves red rust clogging inside steel pipes while strengthening pipes themselves by reducing red rust to black, not damaging the inner surface.
Extends lifespan of steel pipes to that of building

If each room has a daily water consumption at about 200 ~ 300 liters per day, Pipetector's effectiveness will last for more than 40 years. It means that the lifespan of your steel pipes is extended as long as that of the building's. There are many cases where piping's life expectancy actually extended for more than 40 ~ 50 years with Pipetector.
Eliminates sliminess caused by bacteria

Steel pipe rinsing requires repeated cleaning once every 3 to 4 years to prevent bacteria from reoccurring. However, this hastens the steel pipe deterioration as the cleaning wears off pipe thickness. Pipetector can permanently eliminate single-cell bacteria just by installing it on the outer surface of a pipe.
Product structure

Chemical reaction in steel water pipes
Red rust occurs in steel pipes when they are oxidized with water and oxygen. This process can be expressed in a chemical formula as 4FeO + 3O2 + 2H2O → 4FeO (OH). At this time, iron is deprived of electrons through the oxidation process. In other words, iron oxidation stops when electrons are given to iron. With this reaction, Pipetector reduces red rust to black rust by supplying hydrated electrons to red rust. This reaction is 6FeO (OH) + 2e– → 2Fe3O4 + 2H2O + 2OH–.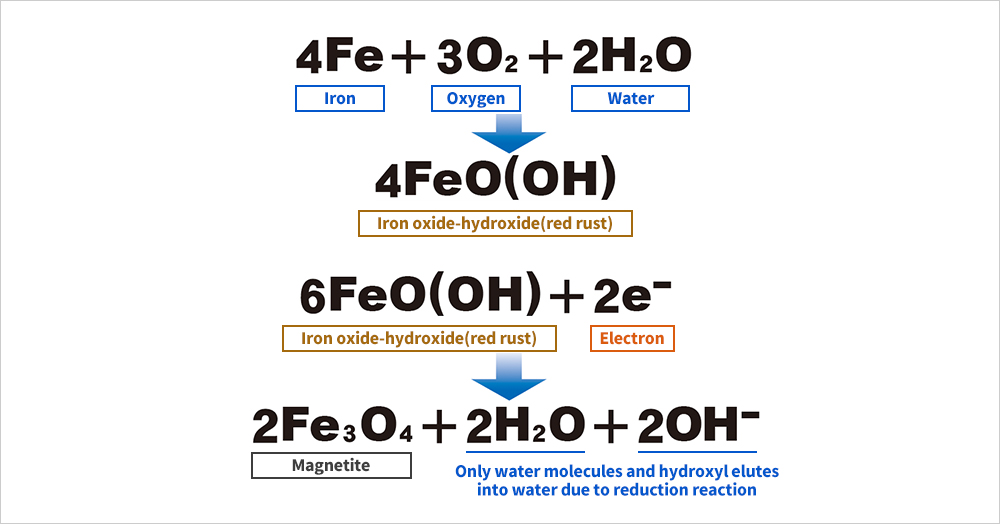 Hydrated electrons located inside general water molecules
Water is an aggregation of water molecules (H2O). These aggregations are called water clusters, which contain hydrated electrons.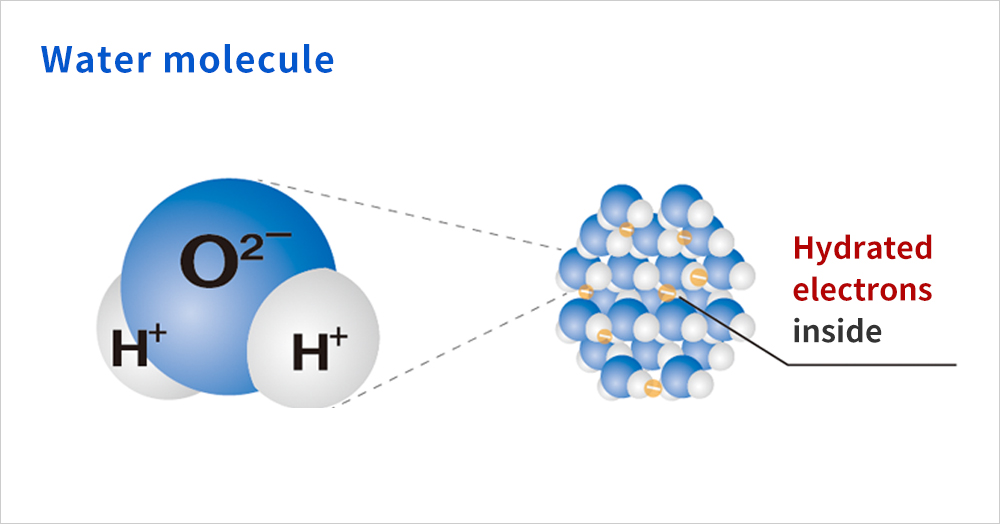 Using hydrated electrons
Pipetector generates certain electromagnetic waves that relocate hydrated electrons inside normal water clusters to their outer surface. The detail is this: when the specific electromagnetic waves are emitted to water molecules, their nuclei, which are polarized to the North and South poles like magnets, start to resonate and cause a rotation. This phenomenon is called nuclear magnetic resonance (NMR). With the NMR phenomenon and water flow in steel pipes, hydrated electrons are emitted throughout piping from the outer surface of smaller water clusters.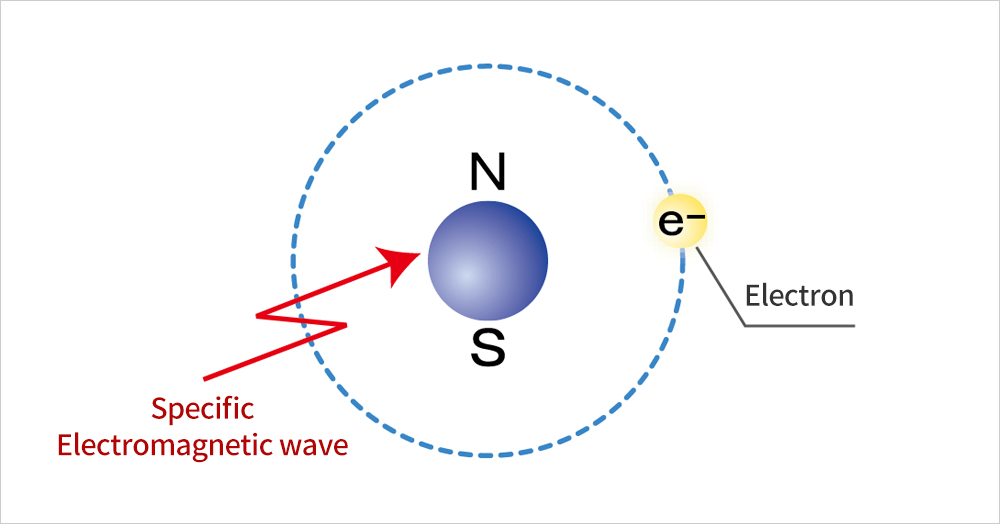 Reason4:Obvious effect

Short-term effect confirmation in scientific ways

Actual benefits of Pipetector can be obtained within a month after it is installed.
Pipetector is an ideal and quick solution for red rust-related problems, such as water discoloration and cloggings in steel pipes.
*Required time varies, depending on conditions. Please contact us for detailed information.

Three ways to measure effectiveness
Select the most appropriate method for measuring the effect depending on the property type and piping system. We propose one of the three main measurement methods: filter, water sampling, and extraction of steel piping.
Effectiveness proven by a third-party, scientific institution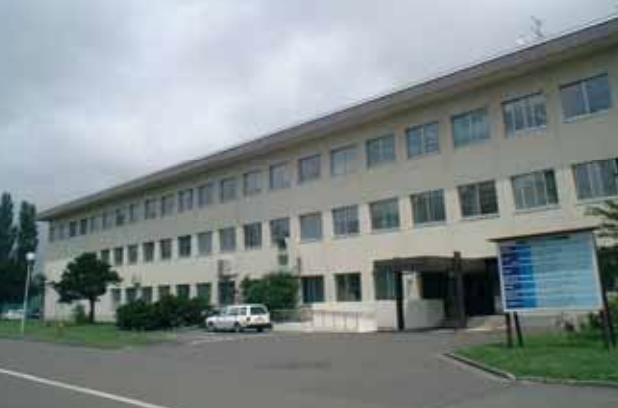 Test result at Industrial Technology Research Facility in Hokkaido
Pipetector effectiveness was tested by Prof.
Yuta from Hokkaido University at Industrial Technology Research Facility in Hokkaido as a scientific proof.
In detail, level of iron content in water was 0.786 ㎎/ℓ before installation but was gradually reduced in a month after installation and was further reduced to 0.262 ㎎/ℓ after 4 months. The level is now less than that of the Japanese Drinking Water Safeness Act set at 0.3 ㎎/ℓ.
Before installation
After 1 month
After 2 months
After 4 months
The Japanese
Drinking Water Safeness Act
Iron content (㎎/ℓ)
0.786
0.553
0.423
0.262
< 0.300
Color (degree)
14.7
13
9
5
< 5
*Sampled 500 cc of water at the earliest in the morning. The water was unused for consecutive 8 hours during the night.

Reliability
Recognized product

Patented world-wide
Certificate of Japanese patent –

Patent No. 3952477, May 2007

Certificate of US patent –

Patent No. 7622038, Nov. 2009

Certificate of Hong Kong patent –

Patent No. 1087963, Sep. 2008

Certificate of S. Korean patent –

Patent No. 436113, Jun. 2004
NETIS
-New Technology Information System for public construction works –
To realize the anti-corrosion effect on water pipes, Pipetector adopts a technology using a phenomenon called nuclear magnetic resonance. This technology was registered on NETIS: New Technology Information System on Dec. 13, 2010, followed by another registration on NETIS Plus on Apr. 1, 2016. Both online platforms were managed by the Japanese Land, Infrastructure, Transport and Tourism Ministry.
*Any registrations on NETIS, including ours, were transferred to NETIS Plus in three years of registration.
*NETIS Plus terminated its service on Jun. 30, 2020.
< Registered Info. >
Name: NMR technology
Registration No.: KT-100072
Scientific papers, participation in conferences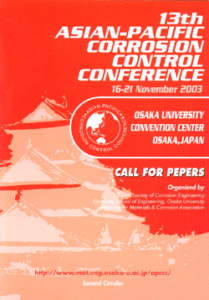 The 13th Asian-Pacific Corrosion Control Conference (APCCC)
We presented a paper on the anti-corrosion technology utilizing NMR phenomenon at the 13th APCCC held at Osaka University from November 16th to 20th, 2003.
Japan Association of Corrosion Control (JACC)
We presented a paper on the NMR technology at a historical scientific conference on rust prevention and control organized by JACC.
【About JACC】 Being approved by the Ministry of Economy, Trade and Industry, JACC was established in 1957 for the purpose of developing and spreading anti-corrosion measures through the public. It also published our paper in its monthly magazine Rust Prevention & Control Japan vol. 49, No. 10 in 2005.
【About our paper】The paper, titled: "Pipe rebirth technology extending the pipe lifespan," describes in detail a test result in which Pipetector successfully converted internal red rust to black rust.
In the study, Pipetector showed its effectiveness in solving water discoloration and red rust development as well as attaining reduction of red rust to black rust in a pipe. Pipetector was also effective at a place 150 meters away from the device.
World Pharmaceutical Congress 2010
We presented a test result on the technology of blood oxidation control at WCP2010 held from July 17 to 23, 2010. The presentation was mainly made by JSP President Katsuyuki Kumano, Prof. Yamamoto from the Faculty of Pharmacy at Ohu University and other relating professors.
18th World Congress of Basic and Clinical Pharmacology
We were the first group to succeed in reducing blood pressure with a device. We wrote a treatise on the result and then presented it at the 18th World Congress of Basic and Clinical Pharmacology (WCP2018) in Kyoto between July 1 and 6, 2018.
Katsuyuki Kumano at Japan System Planning and professors at Ohu University, Japan Health Care College and Tokyo University of Science made the research together.
Warranty

A 10-year product warranty available for every customer who purchases Pipetector.
If the device does not work properly, we will replace it with a new one free of charge.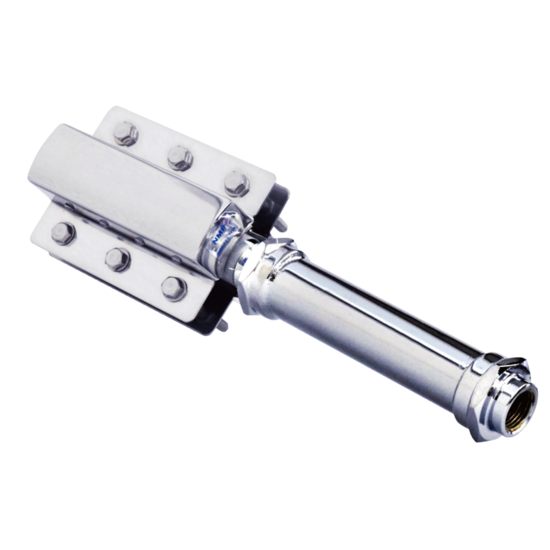 Anti-scale device
Non-Scalor
Innovative technology obviating chemical dosage
Protects pumps from being damaged by calcium scale
Improves the heat exchange efficiency
Prevents the calcium scale adhesion
Our other device, Non-Scalor, works as follows: Non-Scalor oxidizes calcium elements (calcium hydroxide) in water to make them disperse into ultra-fine particles of calcium carbonate. This function prevents calcium scales from adhering to the inner surface of water pumps, boilers and other heat exchangers.