Cost comparison: NMR Pipetector v.s. pipe replacement
Realizing zero maintenance cost for pipes
Increasing property value
No pipe cutting or disrupting water supply
Safe and hygienic
Does not be in contact with water
Improves pipe integrity, no chemicals used

Conventional methods pose a safety risk on tubing, as they require chemical dosing to water and wear off the thickness of pipes when washing inside the lines. NMR Pipetector, as it only needs to be fitted on the outer surface of pipes, does not be in direct contact with water. For this reason, you do not have to dose chemicals or have a fear of damaging your pipes.
Disadvantages of conventional plumbing methods
T

otal solution to red rust-relating corrosion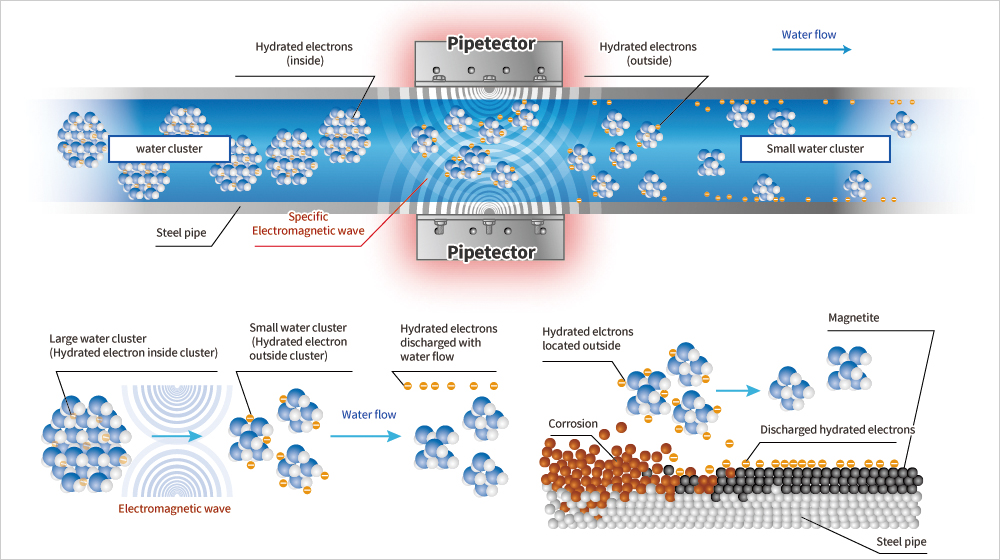 Worldwide-patented technology
Treatises accepted by international academic meetings
Applicable to any kinds of pipe systems, buildings
Client testimonials

NMR Pipetector has acquired favorable reputations on its efficacy and benefits from our customers. We received client testimonials from the Royal Bank of Scotland, Royal Garden Hotel London, the Guildhall in central London and Whittington Hospital, one of the NHS Trust medical facilities.
An innovative device drawing attention of media
Several trial options
Per the customer's actual site conditions, we select the most suitable method for a test trial from one of the following: water sampling, filtering, and testing of black rust ratio.
Three ways of trial
* Testing period differs depending on customer's site conditions and trial method
Verified the effectiveness at a third-party institute
Agent/agency in charge of trial
Rectifies smell and taste of water
Points of attention
Our history
Taking actions for the Sustainable Developmental Goals