Royal Garden Hotel London in Kensington, England, belongs to one of the most prestigious hotel chains in the world. It was built in 1965, renovated from 1994 to 1996, and now contains 400 guest rooms. To protect the hotel's domestic hot water pipe systems from internal corrosion, the hotel installed NMR Pipetector PT-200DS, PT-100DS, and PT-75DS onto three independent hot water flow headers in the main building. After 25 days, iron content was drastically reduced from 2.79 mg/l to 0.016 mg/l. After 36 days, NMR Pipetector kept iron content low at 0.013 mg/l. These results are far below the British drinking water act set at 0.2 mg/l.

The decrease in iron content shows NMR Pipetector stopped the new formation of corrosion inside the pipework and reduced the existing corrosion to magnetite, which does not dissolve in water.

As a follow-up study, the hotel sampled hot water on June 29, 2020, 14 years after the installation, and requested a third-party institution to analyze the water quality.
As a result, the iron content in hot water was 0.00 mg/l. This indicates the excellent effect of NMR Pipetector entirely reducing internal corrosion to magnetite in the circulating domestic hot water piping over the past 14 years. Now that the pipeline inside is completely coated with the layers of black rust, NMR Pipetector will protect the pipe from internal corrosion regardless of the hotel's water consumption.
Installation Summary
Name
Royal Garden Hotel London
Location
Kensington High Street, London, UK
Building profile
A hotel built in 1965 with approx. 400 guest rooms
Installation date
November 23, 2006
Installation pipes
8, 4 and 3-inch hot water pipe headers:
PT-200DS x 1 unit, PT-100DS x 1 unit, PT-75DS x 1 unit
Change in iron content in water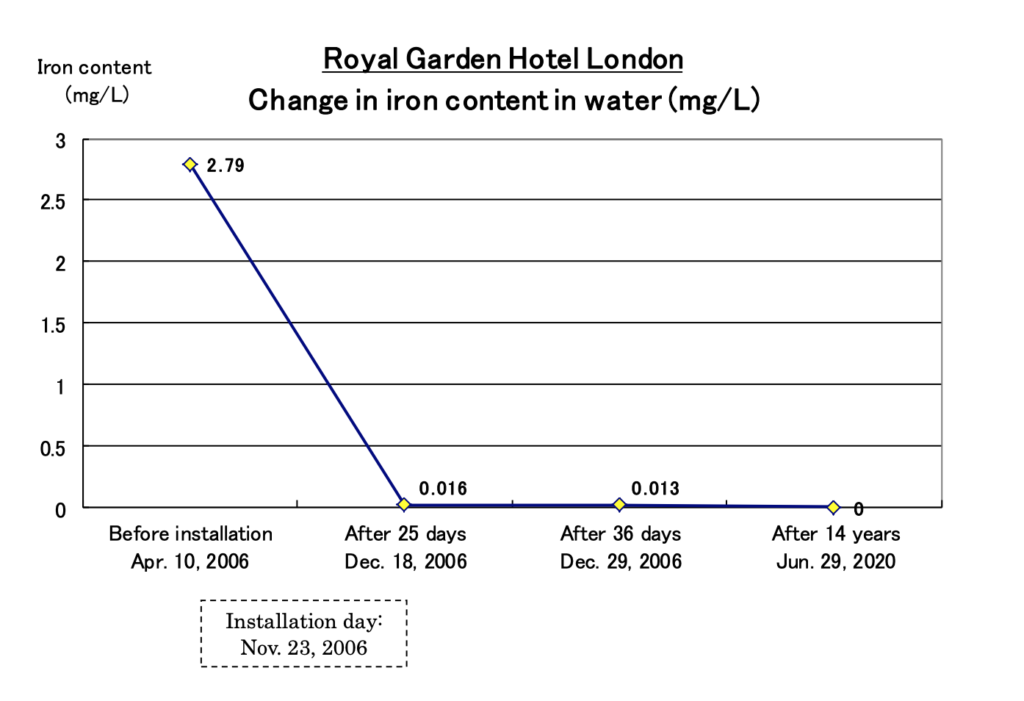 Before
installation
Apr. 10, 2006
After 25 days
Dec. 18, 2006
After 36 days
Dec. 29, 2006
After 14 years
Jun. 29, 2020
The British
Drinking Water Act
Iron
content
(mg/L)
2.79
0.016
0.013
0.00
0.2
Certificate of water quality testing
Client testimonial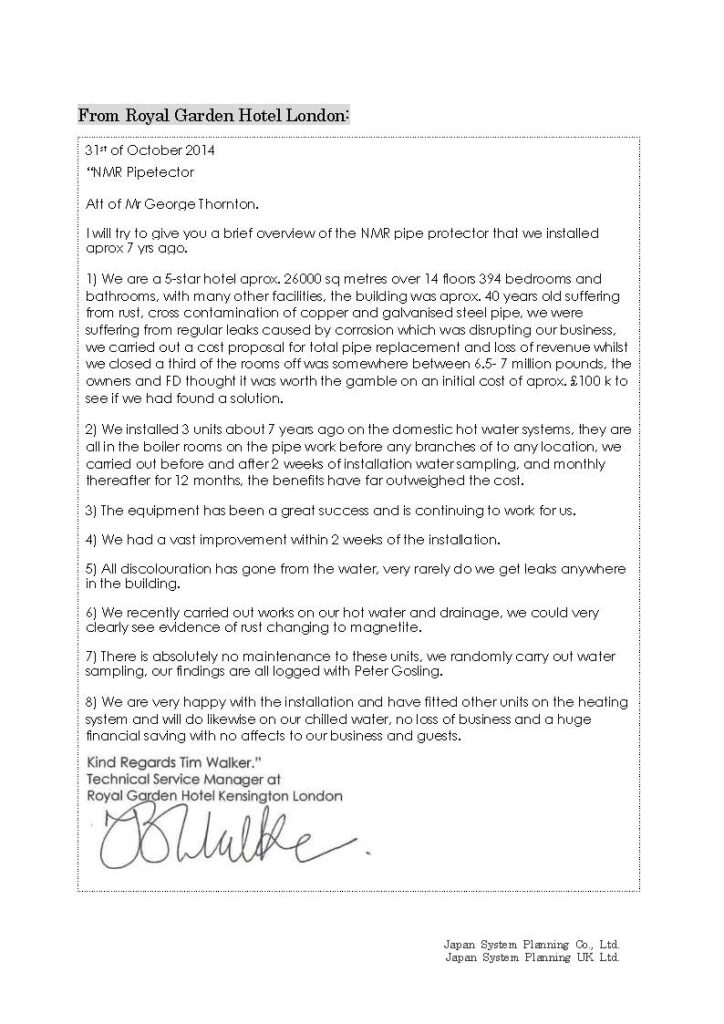 Related links