The Palace of Westminster is one of the most famous buildings in the world. It is located on the North bank of River Thames and was built in the 1860s approximately. One of the buildings had a major problem of internal corrosion in its central heating system.
So, to protect all the central heating systems completely, the Parliament installed one Pipetector PT-75DS installed on a central heating supply pipe on April 12, 2010.
Before the installation, the Fe content in the heating water was 3.9 mg/L. However, after only four days, the Fe content decreased to 2.2 mg/L.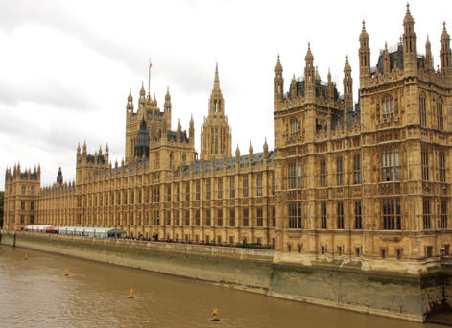 The level decreased continuously, and after 12 weeks, it further decreased to 1.48 mg/L, which is less than half before the installation. It means Pipetector terminated the new formation of corrosion inside the pipework and reduced the existing corrosion into magnetite, which does not dissolve in water. Pipetector will now protect inside the pipework from any internal corrosion so that it can be used until the life duration of the Parliament.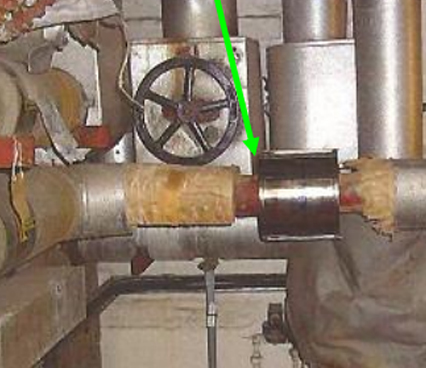 Summary
| | |
| --- | --- |
| Name | The Palace of Westminster |
| Location | Westminster, London SW1A 0AA, UK |
| Profile | Reconstructed in approximately 1860s |
| Installation date | April 12, 2010 |
| Installation pipe | Central heating supply pipe PT-75DS × 1 |
Change in Fe content in water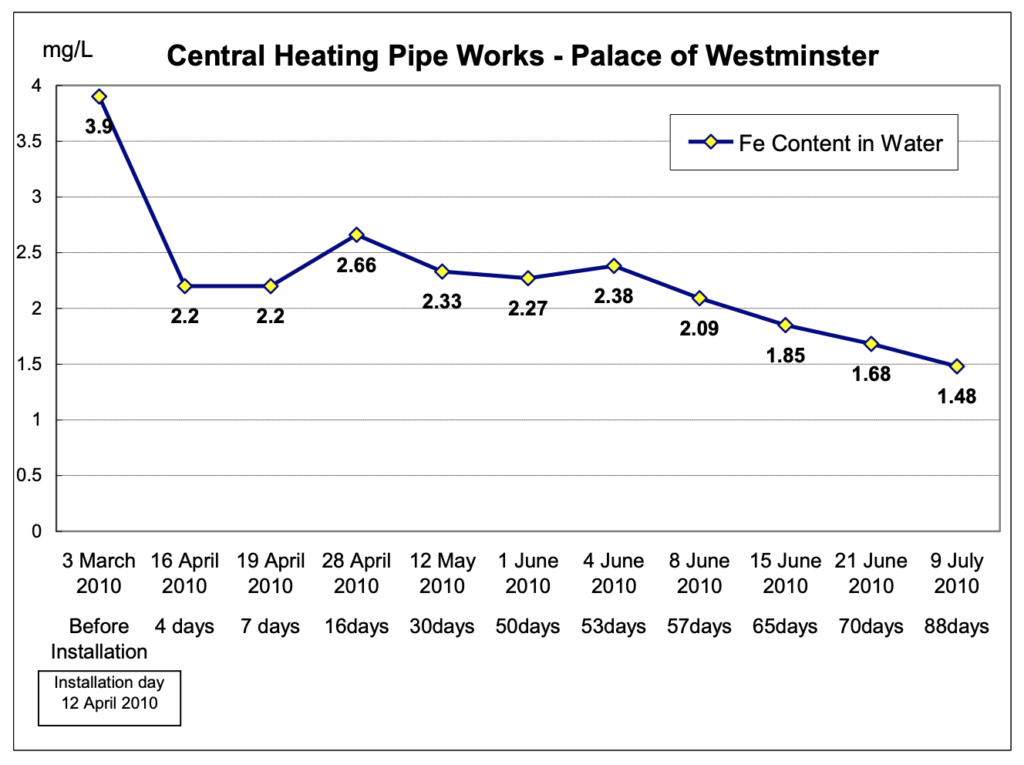 Before Installation
3 March 2010
After 4 days
16 April 2010
After 1 weeks
19 April 2010
After 2 weeks
28 April 2010
After 4 weeks
12 May 2010
After 6 weeks
1 June 2010
Fe content
(mg/L)
3.9
2.2
2.2
2.66
2.33
2.27
After 7 weeks
4 June 2010
After 8 weeks
8 June 2010
After 9 weeks
15 June 2010
After 10 weeks
21 June 2010
After 12 weeks
9 July 2010
–
2.38
2.09
1.85
1.68
1.48
–
Record of Water Quality Test Result
Related links