Reliability


Office/Branch
We have offices in Japan, the UK and the US.
Please do not hesitate to contact a nearby office for any inquiries.
Japan
Overseas Office
Search in Map
Click the icon to check the details of each office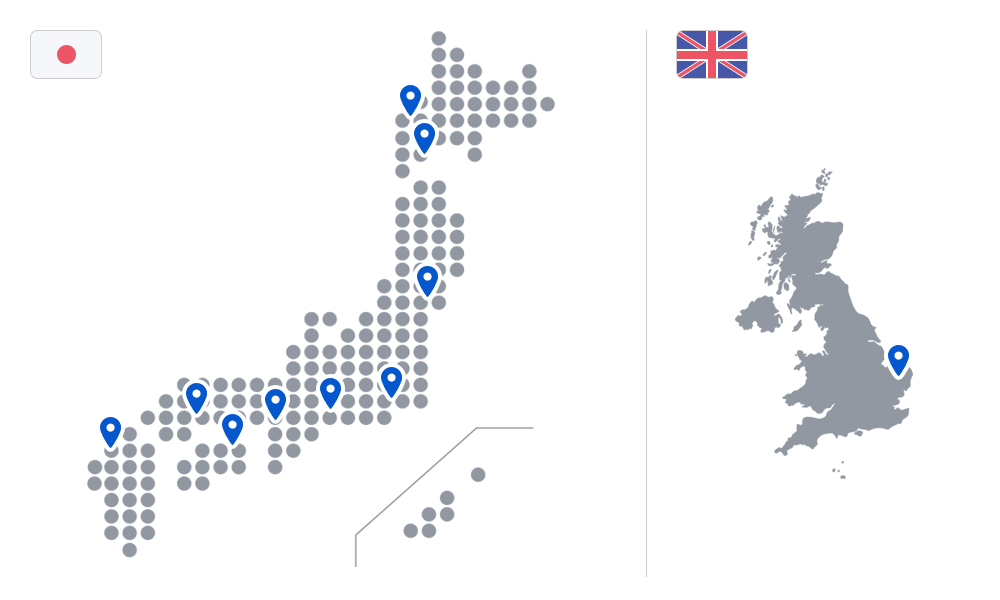 Tokyo head office
2-21-12, Sasazuka, Shibuya, Tokyo 151-0073, Japan
TEL:+81-3-3377-2339
FAX:+81-3-3377-2214
Hokkaido branch
25-4-1, Kitagojo-nishi, Chuo, Sapporo, Hokkaido 064-0825, Japan
TEL:+81-11-632-7295
FAX:+81-11-616-7287
Website:Hokkaido branch
Hakodate office
Honmachi-goryoukaku, 23-4, Honmachi, Hakodate, Hokkaido 040-0011, Japan
TEL:+81-138-84-1842
FAX:+81-138-84-5263
Tohoku office
1-6-10, Kamisugi, Aoba, Sendai, Miyagi 980-0011, Japan
TEL:+81-22-713-9030
FAX:+81-22-713-9033
Nagoya office
3-7-15, Matsubara, Naka-ku, Nagoya, Aichi 460-0017, Japan
TEL:+81-52-265-8234
FAX:+81-52-265-8248
Osaka branch
8-12, Hiroshiba-chou, Suita, Osaka 564-0052, Japan
TEL:+81-6-6310-6081
FAX:+81-6-6310-6103
Website:Osaka office
Chugoku office
7-1, Hacchoubori, Naka-ku, Hiroshima, Hiroshima 730-0012, Japan
TEL:+81-82-511-0222
FAX:+81-82-511-0228
Shikoku office
Plata59, 5-9, Togiya-chou, Takamatsu, Kagawa 760-0026, Japan
TEL:+81-87-813-1900
FAX:+81-87-813-3899
Kyushu office
2-3-4, Mukaino, Minami-ku, Fukuoka, Fukuoka 815-0035, Japan
TEL:+81-92-552-8805
FAX:+81-92-552-8807
Website:Kyushu office
Japan System Planning UK, Ltd.
---
Japan System Planning USA, Inc.