Background
The development of corrosion inside water pipes can cause tap water to turn reddish-brown. The discoloration could ease to a point that it's no longer an issue after you let the water flow for a moment. But the water issue won't stop no matter how much you do so under the excessive development of rust-related corrosion. Since we're pretty familiar with clean and transparent tap water, I'm sure we'll hesitate to use discolored water for bathing and toilets, let alone drinking it.
A hotel in Vietnam named Legend Hotel Saigon, currently Lotte Hotel Saigon, was suffering from severe discoloration in its tap water system. The hotel tried to fix the issue by running the water for hours, but it didn't show any sign of improvement. It was so bad that hotel guests couldn't even take a shower.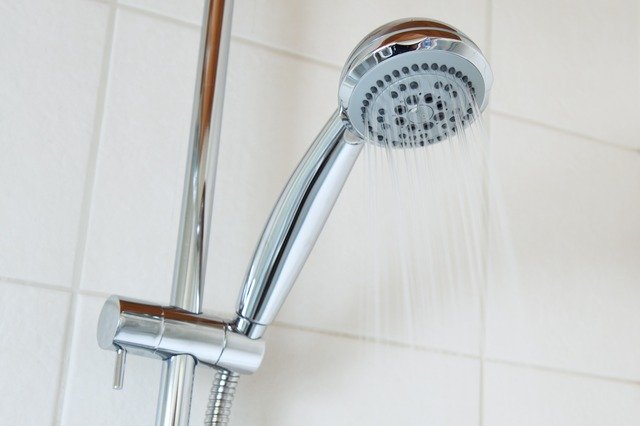 Snack company involved in hotel business
Legend Hotel Saigon opened in 2001 after snack company Confectionary KOTOBUKI Co. requested building corporate Taisei Co. for the construction.
Although most people may haven't heard of Confectionary KOTOBUKI, the term Okashi-no-Kotobuki (snack maker Kotobuki) may bring back good and old memories to elderly people. It's a maker of western sweeties whose head office is located in Kobe City, Hyogo Prefecture. Back then, KOTOBUKI's brick-and-mortar stores colored vivid pink and white were seen across the country.
Confectionary KOTOBUKI was originally established as a shiruko (sweet red bean soup) shop named Kotobuki Honpo in 1947. Founder Kiyoshi Hosoya gradually expanded his business as he successfully sold shiruko soup, saka-manjyu (red bean buns using Sake as an ingredient), daifuku (soft rice cake stuffed with red bean paste) and other sweeties amid post-world warⅡ, when Japan was short of food supply.
In 1968, Hosoya began franchising his company while he changed the corporate name to Okashi-no-Kotobuki (sweet maker Kotobuki), and then to the current name in 1982. Its reputation spread nationwide, leading to business expansion to restaurant, hotel operations and other industries.
KOTOBUKI to start hotel operations
Sadly, KOTOBUKI has ceased its direct management of hotels as of 2021, but what made a sweet maker run hotels in the first place? It was said to be the wish of Hosoya's eldest son, who died young.
Founder Hosoya was 87 years old when he decided to enter the hotel industry. Managing a hotel must've meant everything to him. It was also his special wish that he vowed to his beloved son.
Construction of the hotel
Legend Hotel Saigon was the first hotel made by Confectionary KOTOBUKI, a.k.a. Okashi-no-Kotobuki (sweet maker Kotobuki). The 17-floor hotel faces Saigon River, Ho Chi Minh City, and has 283 guest rooms and many other facilities, including six restaurants and a large circular pool within the property. The hotel opened in Oct. 2001 as the largest and the most luxurious accommodation establishment in Vietnam at the time.
There're popular sightseeing spots such as Opėra de Saigon and Nguyen Hue Street near the hotel, which was later acquired by S. Korea Lotte Group in 2013. Nowadays, the hotel's popularity and fame are still in the top-tier of its kind in Vietnam while it offers a variety of amusement facilities, including a spa. It's always meticulously clean and has English-speaking staff available 24-7.
In 2007, however, the hotel discovered water discoloration not so long after its grand opening.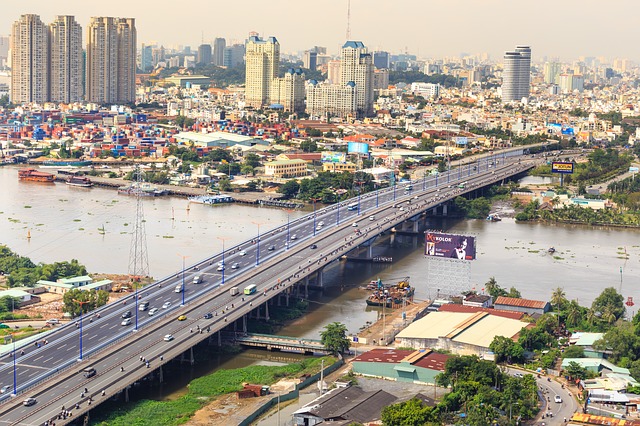 Introduction of Pipetector
Water remained reddish-brown after several hours of running water
A famous Japanese celebrity stayed at Legend Hotel Saigon for three nights in 2007 to join a volunteer work in Vietnam. One day, when the volunteer tried to take a shower in his room, he realized that the hot water with which he filled the bathtub was discolored reddish-brown. The discoloration didn't clear after he ran the water for hours. As a result, he couldn't take a shower at all during his three-night stay.
Oddly enough, the hotel was only six years old back then. Founder Hosoya was seen to be boiled with rage as soon as he heard the report. Since he was so much emotionally attached to the hotel management, and that it was the very first hotel he looked after, he must've been extremely shocked at the incident.
Hosoya demanded the entire replacement of the hotel's tap water and hot water pipes, as well as compensation for closure during the replacement work to Taisei Co., who was in charge of the hotel's construction.
Vietnam's unusual water properties
What lays in the background is Vietnam-specific water properties. Since the tap water in Vietnam contains a high level of sulfuric acid, red rust corrosion was highly likely to occur as the acid reacts with galvanized steel used as pipe material.
Pipe replacement aborted: Issues stood in their way
Taisei would've suffered from a sky-high cost if it conducted the pipe replacement as demanded by Hosoya. The hotel needed to shut off the water supply for the replacement work. And because any regular business wasn't viable without this essential service, they had to temporarily suspend operations during the replacement period as well.
With the expensive cost and the financial loss that could've been caused by the suspension of operations, Taisei Co.'s former official in charge of the international construction buried his head in his arms. And while the firm was looking for a solution apart from pipe replacement, they came across a device dubbed Pipetector developed by Tokyo-based Japan System Planning Co.
In 2008, Taise choose Pipetector as an alternative solution and duly requested Japan System Planning to install one at the hotel.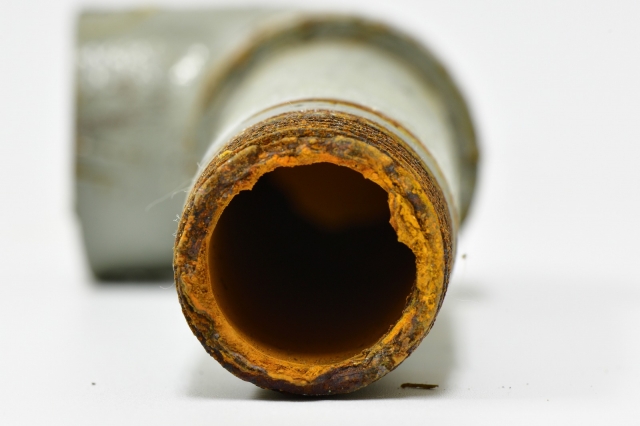 Demonstrating on-site rust control effect
Superior performance
As was the case with Legend Hotel Saigon, first and foremost, water discoloration issues are generally dealt with by replacing old pipes with new ones. However, even you replace them, red rust corrosion will occur inside pipes in a few years if the water has special characteristics like Vietnam's. Chemicals could be used, but they're just a temporary solution and have to be dosed repeatedly. In either way, stopgap measures won't solve the issues at their root as they require high maintenance costs on a regular basis.
Concept
How Pipetector works is completely different from the aforementioned conventional manners. Instead of removing internal red rust, NMR converts it to another substance called black rust to stop the new development of corrosion and strengthen pipe integrity, leading to prolonging the life expectancy of the water lines.
Advantages
As Pipetector is attached to the external surface of pipes, it doesn't need to cut off the water supply during the installation. This allows a drastic reduction of cost. You also don't need to worry about operation costs because there isn't! The reason is that the device doesn't have expendable parts or require chemical dosing or plugging.
Pipetector's rust control effect lasts for about four decades as long as daily water consumption, which is about 200 ~ 300 L/day per tap, is kept. So, Pipetector was the best choice for Legend Hotel Saigon in terms of effectiveness, cost merit and convenient installation.
Nasty water discoloration quickly became crystal clear!
Legend Hotel Saigon, currently known as Lotte Hotel Saigon, installed Pipetector in 2008. At the time, every guest room basin, bathtub and toilet had dark red water coming out from their taps. The water quality barely changed after letting the water flow for about half an hour. Based on the fact that it was such awful discoloration, hotel staff fully opened guest room taps for a few hours every day while they cleaned the rooms to maximize Pipetector's rust prevention effect.
About one month and a half later, the hotel sampled the water from basins, bathtubs and toiles at ten guest rooms on the 10th, 11th and 12th floors as a follow-up survey.
Although some rooms weren't fully protected by the NMR effect because some water valves were barely opened during the test period, the hotel was still able to deal with the re-development of a small amount of red rust by fully opening those vales for a while. Now, you may want to recall that it was impossible to remove red rust before installing Pipetector even running the water for hours. The water in other rooms and places turned nearly transparent.
Pipetector successfully stopped internal red rust from newly developing and turned existing red rust into black rust. With this, it was proved that Pipetector is also highly efficient in rust control to the water containing concentrated sulfuric acid, which is highly corrosive towards metallic pipes.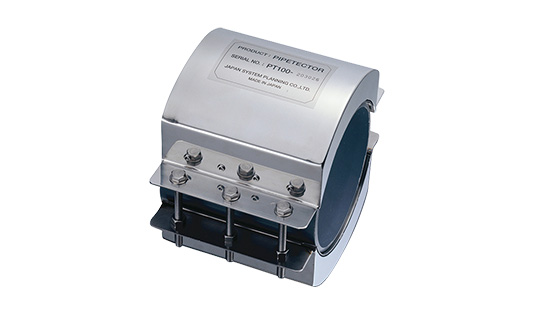 Summary
Confectionary KOTOBUKI Co. started its business as a small shiruko shop in the dark days of post-WWⅡ and eventually grew into a nationwide famous snack maker giant.
The troublesome water discoloration caused a fuss at Legend Hotel Saigon, the first hotel undertaken by the KOTOBUKI founder, who put special emotions into it as the first step in his hotel management business. As the company responsible for the issues, what Taisei Co. choose as the solution to deal with red rust corrosion was Pipetector.
Pipetector can be installed without undergoing elaborate works. The expense is actually only its initial cost, which is estimated at one-tenth of that of general tap water pipe replacement.
If you're a building owner suffering from red rust issues in pipes, feel free to contact Japan System Planning Co. at any time.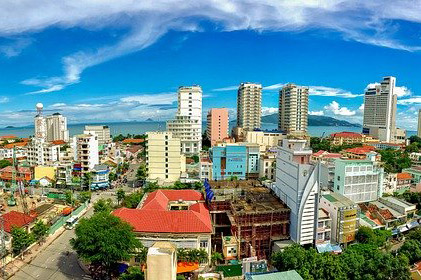 Related links