Royal Bank of Scotland (RBS)
Sep.1,2019

The Royal Bank of Scotland conducted a water sampling test by themselves on May 7, 2019, one year after the installation of the NMR Pipetector. The iron content in the water before installation was 1.1㎎/ℓ, but was reduced to 0.03㎎/ℓ after a year. From this result, the bank confirmed that the rust-prevention effect of the NMR Pipetector is still effective after a year of the installation. We received a positive testimonial from the bank after this successful result.

Installation Purpose and Result
Royal Bank of Scotland is one of the major banks in the UK. Building No.250, the 18-year old bank branch located in Bishopsgate, had issues regarding corrosion in its central heating water piping system for quite a long time.
The corrosion inhibitors the bank once used had to be replaced with other method because the chemical was cost-prohibitive and environment unfriendly. One unit of NMR NMR Pipetector PT-200DS was hence installed for the protection of the central heating water piping on 23rd of March 2018.

Appearance of the RBS Building

Installed NMR Pipetector

3 weeks after the installation, Fe content was redused from 1.1 ㎎/ℓ to 0.41 ㎎/ℓ, revealed by the testing conducted before and after the installation under the same conditions.
This indicates that the new forming of corrosion (FeO(OH)) inside the piping has stopped and the existing corrosion has been reduced to magnetite (Fe3O4), a substance that does not dissolve into water.
The level of iron in water maintained at 0.4 ㎎/ℓ, revealed by another water testing as a follow-up survey 11 months after the installation.
With the continuing use of NMR Pipetector, the existing red rust will be reduced to black rust and inner surface of piping will be protected with a firm insoluble coating of magnetite, process of which prolongs the life span of piping as long as the building exists.
Installation Summary
| | |
| --- | --- |
| Building Name | No.250 Royal Bank of Scotland 250 |
| Location | Bishopsgate, London, UK |
| Building Summary | A 18-year-old 11-story building |
| Installation Date | March 23, 2018 |
| Installation Place and Number | Central Heating Pipework System, PT-200DS x 1 unit |
Installation Result
Change in Fe content in Water
Before Installation ~ After 11 weeks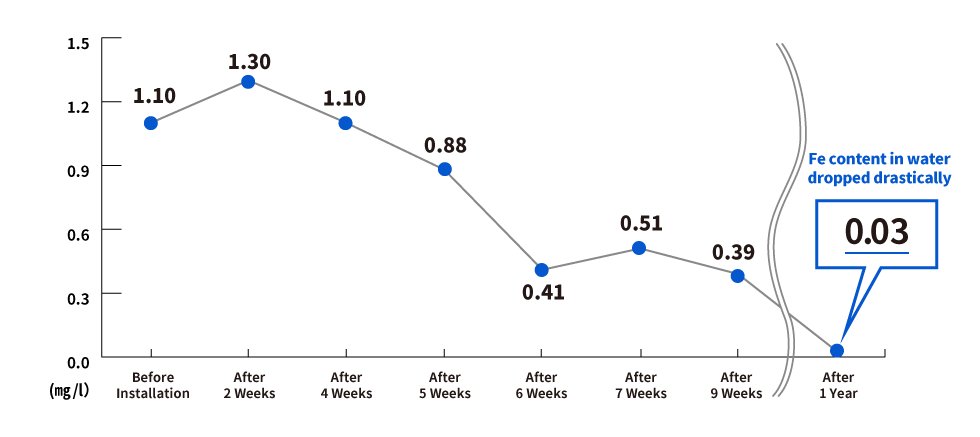 Analysis institute Chemtest Ltd.
Fe content dropped drastically from 1.1㎎/ℓ before installation to 0.03㎎/ℓ after a year of the installation.
Customer Testimonial for NMR Pipetector