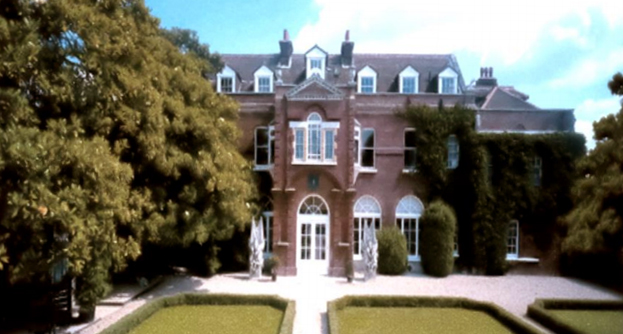 Shepperton Studios is a venerable film studio originally built back in 1689. The Old House within the studio's property was used as a domestic dwelling for over two hundred years before it was caught on fire in 1876. The house was then laid unoccupied for about 25 years until it was fully restored in 1902. In 1936, the studio was subject to another refurbishment providing simple lodging and dining facility for the film industry. The entire refurbishment took place in 1936 to open as hotel accommodation for film stars.
The Old House had internal corrosion in its old galvanized steel hot water piping, which had to be dealt with as a Grade II-listed building. However, the house did not want to carry out any replacement of pipes, as it might cause damage to the building's structure.
To protect the pipework from internal corrosion without the replacement, the house installed one NMR Pipetector PT-30DS on the pipe system on Feb. 27, 2008. Just ten weeks after the installation, NMR Pipetector dramatically reduced the iron-ion contents at three water taps in the ground-floor gents, the ground-floor kitchen, and the first-floor laundry room to 0.37 mg/L from 20.0 mg/L, 0.386 mg/L from 14.5 mg/L, and 0.117 mg/L from 0.34 mg/L respectively.
At a water tap in room No. 922's bathroom, the iron-ion content did not decrease as much as other taps due to limited water consumption. NMR Pipetector needs a certain amount of water used inside pipes to reduce corrosion into magnetite. With sufficient water flow, the iron-ion content at this bathroom water tap will be reduced as well as the other three taps.
The corrosion inside the pipework will now continue to decrease and be reduced to magnetite, which does not dissolve in the water.
Summary
| | |
| --- | --- |
| Name | Shepperton Studios |
| Location | London, Surrey, UK |
| Profile | An accommodation building within a film studio |
| Installation date | February 27, 2008 |
| Installation pipe | Hot water header pipe, PT-30DS × 1 |
Change in iron-ion content in water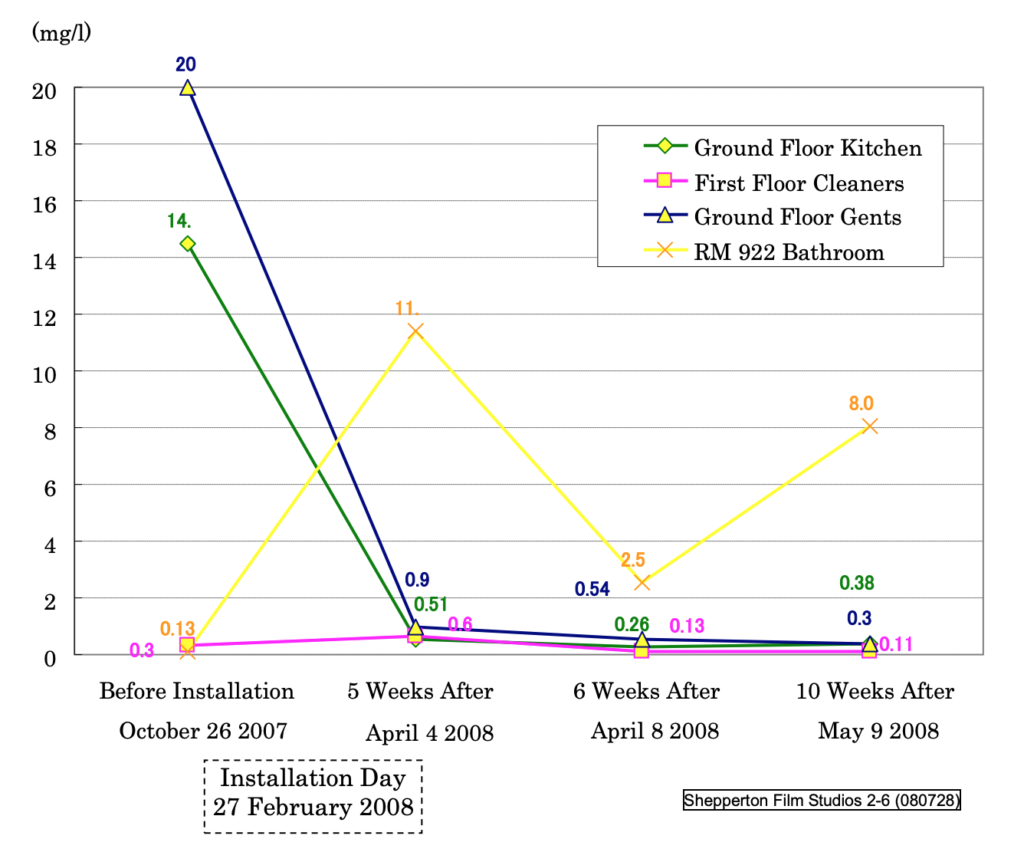 mg/L
Before
installation
Apr. 10, 2006
After 5 weeks
April 4, 2008
After 6 weeks
April 8, 2008
After 10 weeks
May 9, 2008
Ground Floor
Kitchen
14.5
0.515
0.265
0.386
Room 922
Bathroom
0.132
11.4
2.56
8.08
Ground Floor
Gents
20
0.95
0.541
0.37
First Floor
Cleaners
0.34
0.63
0.135
0.117
Certificate of water quality testing
Ground Floor Kitchen
Room 922 Bathroom
Ground Floor Gents
First Floor Laundry room
Related links