Official Scientific Report of NMR PIPETECTOR Installation Anti-Corrosion Equipment, Holiday Inn London Heathrow M4 Jct.4
Installation Purpose and Result
Holiday Inn London Heathrow M4 Jct. 4 was built during 1970's and was one of the largest hotels in the UK with 617 rooms. It is located just a couple of minutes away from Heathrow Airport by an auto which is the largest international airport in the UK. The hotel was suffering from major internal corrosion problems in the chilled water pipework with many small pin holes occurring, causing severe damage throughout the hotel.
For the complete protection from internal corrosion, one unit of NMR Pipetector PT-350DS was installed onto the main chilled water flow header on 12th of February 2008 and the first set of water samples were taken for analyzing the Fe content.
Only 7 days after the installation of NMR Pipetector, Fe content in the chilled water considerably decreased from 0.669 mg/l to 0.017 mg/l, stayed at very low level from the beginning of the installation. It means that new forming of corrosion (FeO(OH)) inside the pipework immediately terminated and reduced the existing corrosion into magnetite which does not dissolve into water.
The effect of NMR Pipetector was confirmed by the hotel as there was no further water leaks in the chilled water pipework during the installation period of 12 months.
Installation Summary
Name and Location of Building
Holyday Inn London Heathrow M4 Junction 4

Sipson Road, West Drayton, UB7 0JW

Building Summary
Hotel Building

617 Rooms, Built in the 1970's

Installation Day
February 12 2008
Installation Place and Amount

Main Chilled Water Flow Header PT-350DS × 1 unit
Change of Fe Content in Chilled Water(㎎/ℓ)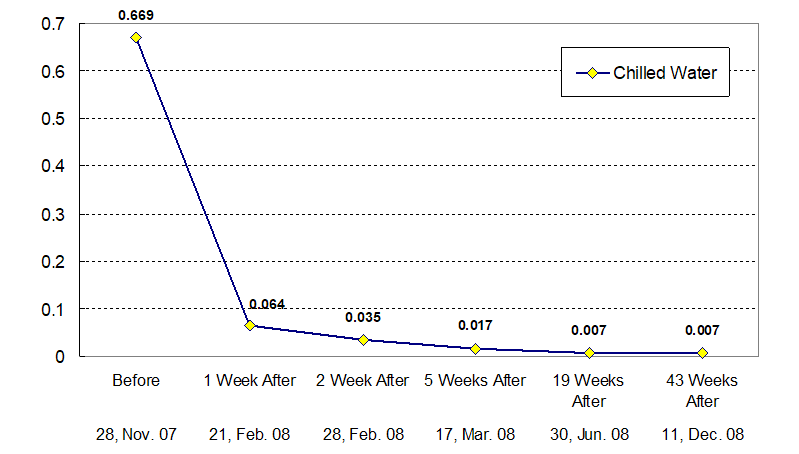 Change of Fe Content in Chilled Water(㎎/ℓ)
| | Before Installation | After 1 Weeks | After 2 Weeks | After 5 Weeks | After 19 Weeks | After 43 Weeks |
| --- | --- | --- | --- | --- | --- | --- |
| Fe Content in Water | 0.669 | 0.064 | 0.035 | 0.017 | <0.007 | <0.007 |